Oggi voglio parlarvi di un brand molto glamour che produce gioielli di una bellezza senza tempo Sgravalli Fashion Jewellery
Today I want to talk about a glamorous brand that produces timeless beauty jewels
Sgravalli Fashion Jewellery
I gioielli
Sgravalli
sono
interamente progettati,
lavorati a mano
, intrecciati da Olja una mente molto creativa dalle mani sempre occupate!
Sgravalli jewellery is entirely designed, hand knitted, wire wrapped and
crafted to its final look, by Olja, forever creative mind and always busy hands!
La passione di Olja per i gioielli nasce quando suo zio che viaggiava spesso per lavoro portava come souvenir a lei ed alla sorella minore dei doni da Parigi. Olja aveva solo dodici anni eppure ricorda ancora come un incantesimo quegli orecchini con tre perle blu tonde con dettagli dorati..
It all started when my uncle who was a world traveller, brought gifts to me and my little sister, usually from Paris. I was only maybe twelve years old at the time, but those pairs of fashion earrings, just put a spell on me! I can vividly remember my earrings that had three sky blue round beads, connected to each other by some golden accents..
Sia Olja che sua sorella crescono come vere appassionate di moda, ed è proprio realizzando il primo gioiello per sua sorella, sua principale consigliera di moda, che nasce il marchio Sgravalli.
We both grew up to be real fashionistas, and she grew up to be my main fashion advisor, voice of wisdom in general, and my greatest love. Actually, the name Sgravalli and the idea itself was born with the first fashion piece I made for her.
Olja inizia da giovane a creare gioielli praticando tecniche diverse ed impara anche a lavorare a maglia, quasi per caso,

utilizzando internet e libri. Il particolare divertente
è che la mamma, la zia e le nonne di Olja erano e sono ancora maestre nel lavorare a maglia, uncinetto e molte altre cose...ma Olja non ha mai imparato queste tecniche da loro!
I also finally found time to learn how to make jewellery, practising different techniques and I also learnt how to knit, somehow by accident, using internet and books, and how funny is that considering that my mom and my aunt and my grandmas, they were and still are masters at knitting, crocheting and many other things. And I never learnt that from them!
Ora Olja può condividere suggerimenti, modelli, idee con sua mamma! E' come un nuovo mondo, una nuova gioia! E' anche molto emozionante per Olja, che è originaria della Croazia, Montenegro e Serbia, dove la lavorazione a maglia è fortemente radicata in quelle culture, così come nella sua famiglia. Olja vive a Toronto dalla fine del 2006, e si sente molto legata ai suoi cari in Croazia, e ripensa spesso ai suoi ricordi d'infanzia, lavorando a maglia gli oggetti che le piacevano e ricordando il tempo passato con le nonne.
Now I can share tips, patterns, ideas with my mom! It`s like a whole new world, some new joy! It is also very emotional for me; I come from Croatia, Montenegro and Serbia, and knitting is strongly rooted in those cultures, like in my family, so living here in Toronto since late 2006, makes me more connected to my loved ones there, and is just bringing back my childhood memories, and knitted things I liked, and the time I spent with my grandmas.
Tutte le creazioni Sgravalli sono prodotte nello studio di Olja che è il negozio fisico del brand, ma potrete visionarle ed acquistarle anche sullo Sgravalli online shop su etsy.com
Eccovi alcune immagini dei gioielli ed accessori Sgravalli
Here are some images of Sgravalli jewels and accessories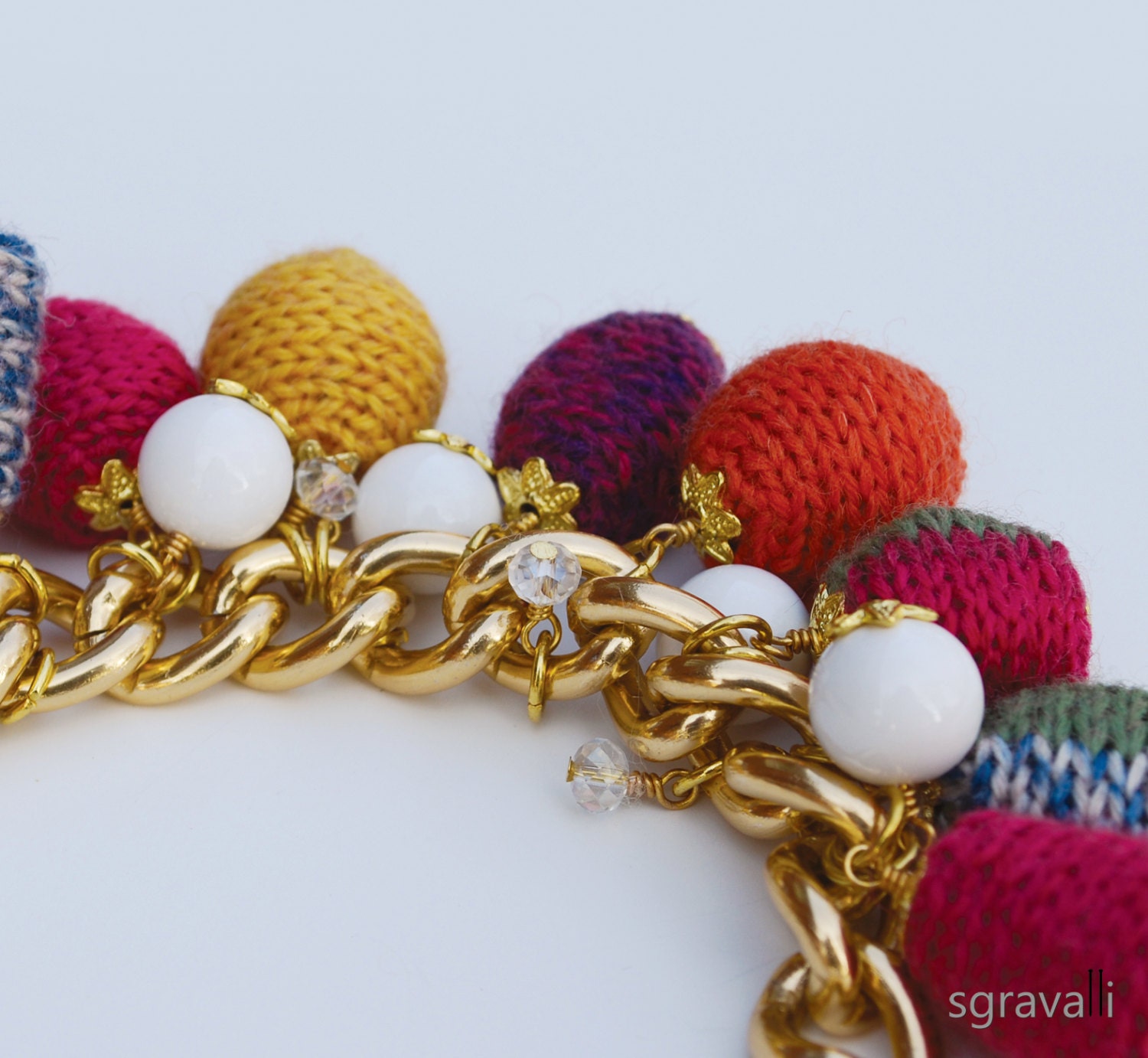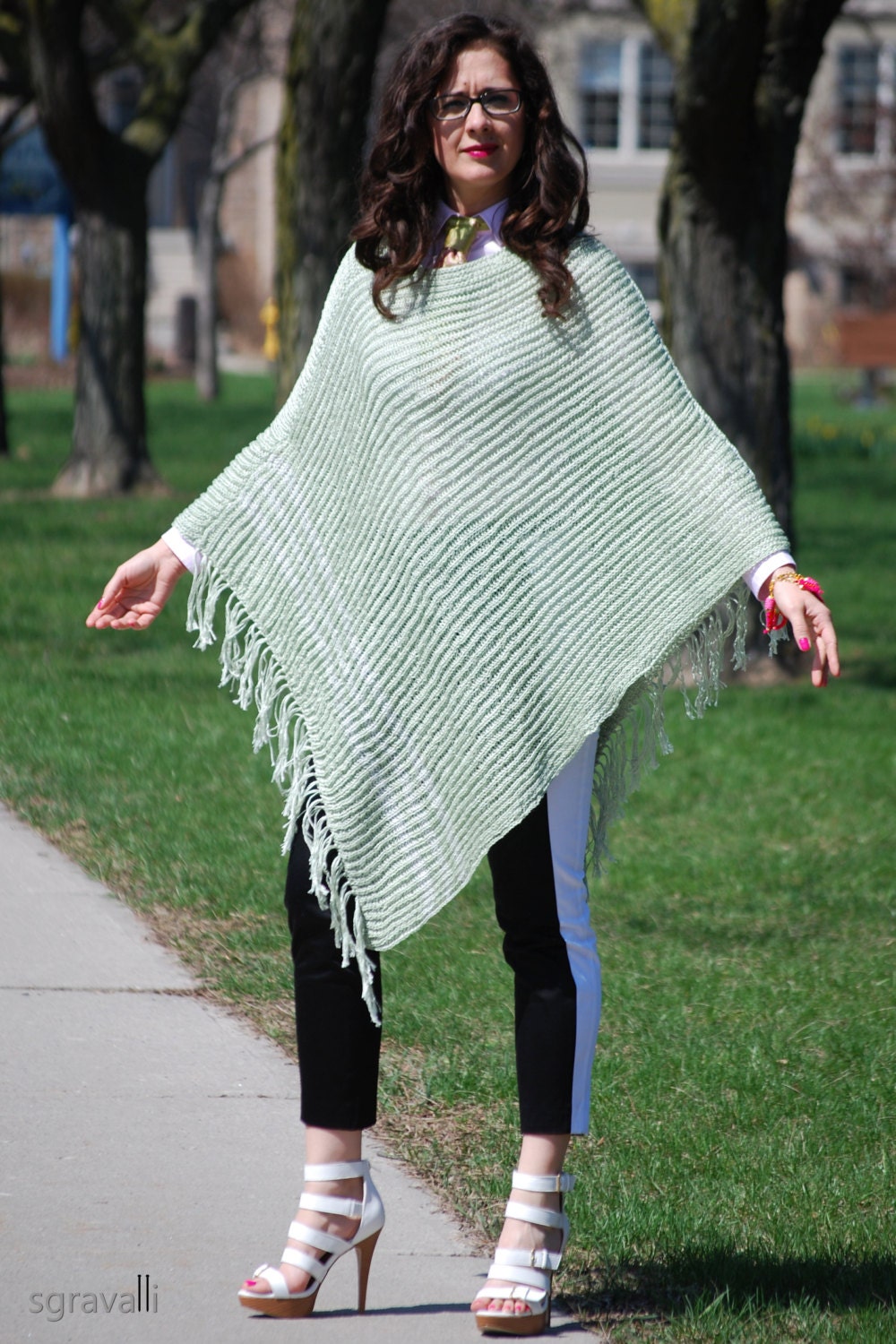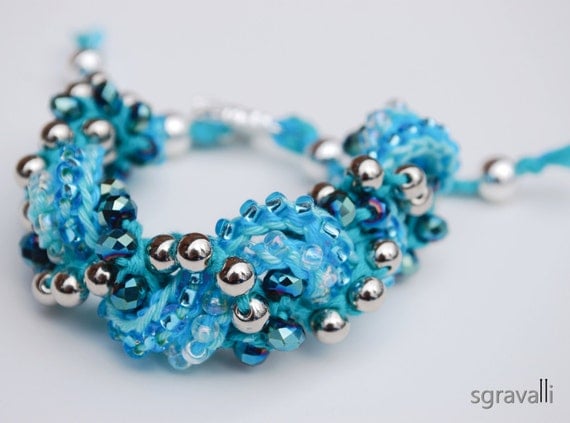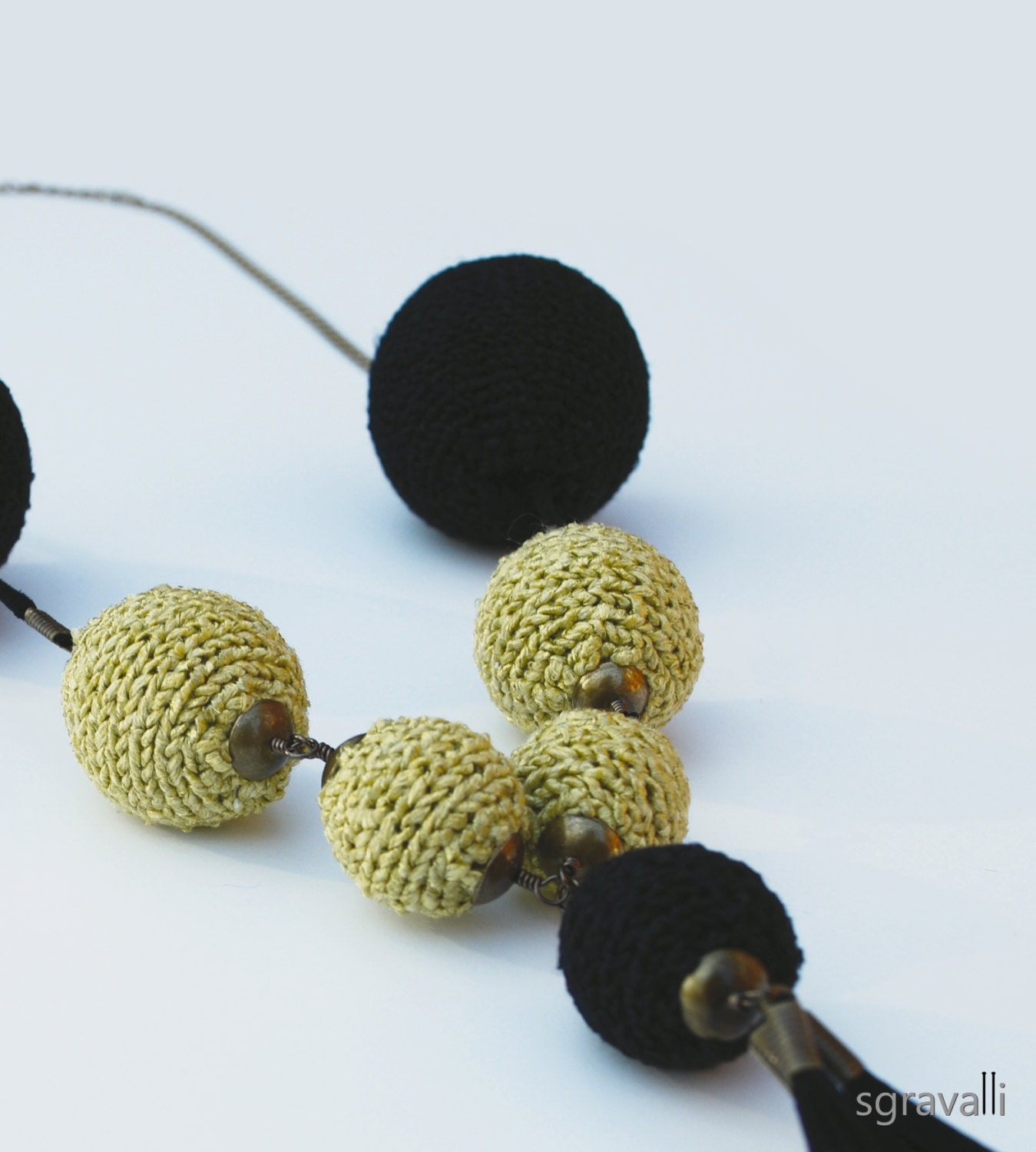 Gli accessori Sgravalli abbracciano la morbidezza e il comfort dei filati, la definizione e l'audacia dei metalli, la giocosità illimitata di tessuti, la brillantezza del cristallo e l'eleganza delle perle. La maggior parte dei gioielli sono pezzi unici, il design Sgravalli è l'interpretazione delle ultime tendenze della moda, che valorizza qualsiasi outfit.
Sgravalli products embrace softness and comfort of yarn, definition and boldness of metals, unlimited playfulness of fabrics, sparkle in crystals, pearls and really anything inspiring. Most of the pieces are one of a kind, Sgravalli designs are unique interpretations of the latest fashion trends, enhancing any outfit.
Ed ora vi mostro con piacere la meravigliosa collana che Sgravalli fashion jewellery mi ha inviato
And now I show you with pleasure the gorgeous necklace Sgravalli fashion jewellery sent me
La collana è custodita in questo prezioso sacchettino
My necklace is kept in this precious little bag
E' una collana molto elegante con un estroso pendente. Lavorata a mano con lana color pesca si intreccia con una catena dorata a maglie grandi.
The necklace is very elegant with a whimsical pendant. Hand knitted in light peach wool,
Ed ecco mia sorella Rosy indossare questo splendido gioiello
And here is my sister Rosy wearing this wonderful jewel
Materiali utilizzati:
Per i filati 50% pura lana vergine e 50% acrilico
Materials:
Yarn 50% virgin wool and 50% acrylic
La collana è in metallo dorato così come il gancio di chiusura.
The chain is in gold color metal like the clasp.
Olja ha realizzato pezzi per se stessa, amici e parenti che l'hanno incoraggiata ad avviare la sua attività ed è per questo che vuole condividere con noi la sua passione...essere sempre alla moda!
Olja made pieces for herself, her friends and family who have encouraged her to start her own business. And now she wants to share her passion with us...s
tay fashionable!
Vorreste avere la possibilità di vincere un gioiello Sgravalli?
Allora correte a partecipare all'evento "Summer & Sea Sgravalli Surprise" organizzato sulla pagina facebook Sgravalli Fashion Jewellery
Cliccando questo link
dovrete accettare l'applicazione e cliccando su ENTER in fondo alla pagina compilerete un form con i vostri dati personali e nel campo messaggio dire quale dei tre bracciali vorreste vincere.
Would you like to have the chance in winning a Sgravalli jewel?
So go on the facebook fan page
Sgravalli Fashion Jewellery and participate to the giveaway event "Summer & Sea Sgravalli Surprise", click on this link
accept the application and clicking on ENTER at the end of the page you will fill a form with your personal information and in field MESSAGE write what bracelet you would like to win between the 3 models to be awarded
Ecco i tre premi in palio
Here are the three bracelets to be awarded
Ogni bracciale ha un valore di circa $ 70! Correte a partecipare avete tempo fino al 24 giugno 2013
Each bracelet is valued at $ 70! Go and participate within
the 24th june 2013
Buona fortuna a tutti i miei lettori!
Good luck to all my followers and readers!
Contatti
www.sgravalli.etsy.com